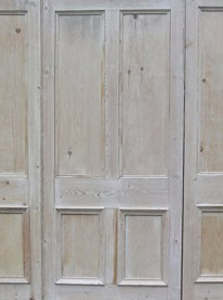 Internal doors are generally less imposing than front doors, however, they are just as important as they give an indication of the style, richness, period and status of a room. Let's face it, we all spend a lot of time looking at them, as do our visitors.
Panelled doors came into their own in the Georgian period, typically having six panels. As with all architectural features, the grandest were in the more visual areas of the house, while less visited areas of the house had less features to the doors.
The Victorian age brought automatic cutting techniques for creating joints, which resulted in the mass production of doors. Four-panelled doors were popular (and still are!) and it was not unusual for glass to be used in the upper panels, as it still is today in many differing styles to provide light between rooms. Double and folding doors served to provide a division between adjoining reception rooms.

Upholding the tradition
Period Projects, which has been in business for over 30 years, still makes individual doors largely by hand. Richard Rogers, Managing Director, highlights how the reclaimed timber that is selected must be straight and free from knots and shakes. It has to be denailed and planed and the wood has to be thoroughly dried before use.
Before timber can be used it must be cut to width and length, and then planed to width and depth. In the case of a panelled door, the positions of the rails on the stiles and the positions of the mortise and tenons are marked out along with the groove for the panels. Period Projects doors are made to old fashioned specifications with wide rails and they have the look and appeal which is aesthetically right for period properties.
The machines used to cut the joints are called mortisers and tenoners and the wood machinist uses a spindle moulder to create grooves, mouldings and rebates on the stiles and rails to make them ready to receive the panels.
Richard further explains that, from this point on, the door is hand finished. The dry door is assembled by a craftsman tapping the timber together, ensuring all the pieces fit together neatly. The joiner disassembles and reassembles the door, applying glue to the tenons and then, places the door in cramps, applying light pressure to bring the joints together. The final stage is to drive wedges between the edges of the tenons and the mortise to secure the tenon within the mortise. The door is then sanded for the finishing coats of primer or wax.
In London and Brighton in particular there is such demand for period doors that often the demand outstrips supply of traditionally made doors.
See our Facebook page for some wonderful examples.